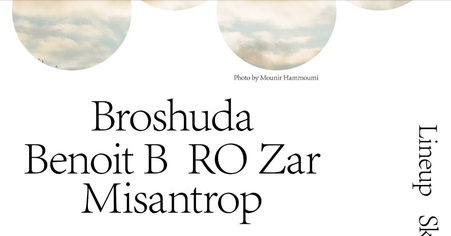 Force Field Invites Benoit B & Broshuda
Date: 12.01.2019
For 2019's first Force Field party we are presenting our first-ever takeover of Paloma's upstairs floor, with very special guests Benoit B and Broshuda.

Broshuda released one of the absolute standout records of 2018, the album "Jemi" on Haunter Records. We are thrilled to welcome the artist back again for one of his idiosyncratic and always breathtaking "glambient" sets.
The unique panoramic scope of Benoit B manifests in the curation of his own fledging imprint Banlieue Records, as much as through his own artist releases on labels such as Berceuse Heroique, Wisdom Teeth and (in early 2019) JD Twitch's AF Trax. Above all, Benoit B is an impeccable DJ, we are stoked to hear what he's got in store for Force Field.

True to form, Force Field resident selectors RO Zar and Misantrop (of Glass Knot and Foul-Up) will be cranking up the heat on the floor.
See you atop the Kotti skyline!

————————

Lineup:

BENOIT B
https://soundcloud.com/benoitb

BROSHUDA
https://soundcloud.com/broshuda

RO ZAR
https://soundcloud.com/ro_zar

MISANTROP
https://soundcloud.com/misantrop666

————————

Attend RA: https://www.residentadvisor.net/events/1199612

————————

BENOIT B

Benoit B is a DJ and multi-faceted producer. As efficient as it is discreet, he traces his own path and always remains in search of new sound explorations.

Originally from Paris' outskirts, he moved to Berlin in 2015 where he founded his label Banlieue Records to promote a hybrid and new sound. After releasing two of his EPs on the label, he released other artists who share his vision such as Mathis Ruffing, Aiwa, N1L, Nummer or D'Marc Cantu helping him to define this specific and atypical sound which makes Banlieue Records' music so recognisable now.

In parallel, he released several EPs on labels such as Berceuse Heroique, Wisdom Teeth, Peur Bleue, Permalnk or Versatile. His next project, under the alias of Al Jerry, co-produced with the London producer Gohan, will be out early February 2019 on JD Twitch's label AF Trax (Optimo's sub label).


BROSHUDA

Cross-pollinating a wide textural range of influences, Broshuda´s music incorporates elements of sound art, electroacoustic techniques, processed spoken word / field recording excursions, as well as more rhythmically oriented and beat-heavy pieces. Though kaleidoscopically varied, the work is held together by a playful sense of experimentation and a willingness to explore new directions of sound through an experimental approach and the use of changing production techniques to expand and further his already broad sonic palette.

Pursuing a strong Fluxus inspired interdisciplinary ethos in his artistic output, the same attitude is applied to his audio works, resulting in detailed sketches which at the same time show and disguise their inner logic while transporting a range of carefully distilled emotions and feelings. His livesets mostly consist of unheard, new and upcoming material, often featuring pieces specifically created for the show and the setting he is performing in, while also drawing from his back catalogue and rearranging and remixing his material live.


FORCE FIELD

Force Field is an event venture gathering the sonic perspectives of selectors RO Zar and Misantrop.
Anything goes—it's a vibrant melting pot of divergent sounds and disparate tempos, orbiting around bass diasporas, off-kilter riddims, the hardcore continuum, a spectrum of euphoria, modern angularity, oddball gems, and further filth. Cheeky fun for the dancers who like to be kept on their toes.

————————

Poster design by Adam Bloch Frandsen.